Tags
Commercial Property | News
Maas Group Holdings (Maas) is excited to announce that the development application (DA) for the construction of a new childcare centre on Rawcliffe Street, Singleton has been approved. This milestone will support an Agreement for Lease with Little Treasures Preschool and Early Learning to open a 122- place childcare centre on the site.
The purpose-built facility will accommodate 122 children between 0 and 5 years. The DA for the facility was approved by Singleton Council this week and will address the high demand for childcare services in the area.
"This is an exciting milestone for the project. The DA approval means we are a step closer to delivering the centre which will plug a critical gap in the availability of local childcare services."; said Michael Noonan, Director of Property Development at Maas.
Little Treasures Preschool and Childcare are a family-owned business currently operating a successful centre in Greta and are enthusiastic about expanding their presence to a second location in Singleton. Little Treasures have a unique approach to early childhood care and development which fosters learning through exploration and play. The Singleton facility will be equipped with resources to support children's development, including nature-based play, animal learning encounters, STEM House and secondary language acquisition program.
Lauren Marvig, CEO at Little Treasures Preschool and Early Learning, expressed, "We are thrilled the centre has been approved and we are a step closer to delivering the centre. We know there is a need for further early childhood education in Singleton and we look forward to filling this gap once the building is complete."
The new centre responds to the growing demand for such facilities, particularly in regional areas. Maas has commenced construction on a similar project in Dubbo and submitted additional development applications in Wagga, and Orange.
"The childcare sector presents an attractive asset class for us, especially as regional areas face increasing challenges in meeting service shortages. Maas is committed to working with operators to actively seek additional opportunities to address the rising demand for quality childcare services", said Mr Noonan.
Construction of the centre, is expected to commence in November 2023 with completion expected by mid-2024.
Families interested in child placement are encouraged to contact Little Treasures Preschool and Early Learning Centre at their Greta location on (02) 4058 3032.
About Maas Group Holdings
Built from humble beginnings in Dubbo in Central West NSW, Maas has grown from a civil construction and plant hire business into a leading independent construction material, equipment and service provider and one of the industry's most trusted regional property developers. Integrated within the ASX-listed Maas Group Holdings (ASX: MGH), Maas aim to lead the way in developing better, more liveable, well-designed and functional communities in regional Australia.
Find out more: maasgroup.com.au
About Little Treasures Preschool and Early Learning Centre
Little Treasures is a family owned and operated early learning and childhood service focused on the importance of nurturing towards a child's successful future. They have one existing location in Greta licenced for 119 places.
Families interested in further details about Little Treasures Preschool and Early Learning Centre are encouraged to contact their Greta location on (02) 4058 3032.
Find out more: littletreasureschildcare.com.au
Media contact:
mediaenquiries@maasgroup.com.au
CLICK HERE FOR RENDERS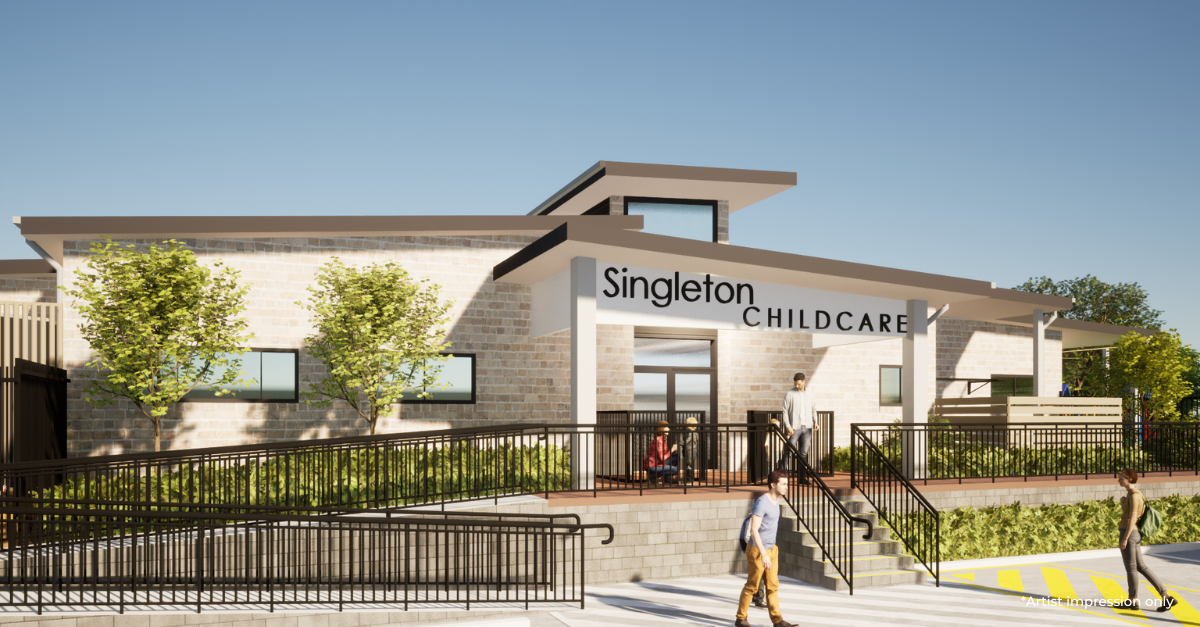 Return to News